At Family Eye Clinic, you will find an experienced and helpful team of eye care professionals dedicated to meeting your eye health needs. We recognize you have a choice for your eye care professional and thank you for choosing us to care for your family's vision needs. We invite you to refer your friends and family to our eye care office.
Dr. Randall Sapp and the entire staff value our patient relationships and strive to improve your quality of life through vision wellness. Our practice offers excellent service and state-of-the-art technology.
Dr. Randall Sapp and the staff work closely as a team and take pride in providing one-on-one attention to solve your eye health and vision problems. We are dedicated to meeting the vision care needs of our patients.
Dr. Randall Sapp
Dr. Sapp is happy to bring his 24 years of expertise and experience in comprehensive eye care to the Maryville community. A native of Columbia Missouri, he graduated from Rockbridge High School. He continued his education at the University of Missouri-Columbia, earning a Bachelor of Science degree in Biology. He then spent the next 6 years in a vision research lab while obtaining a Masters degree in Neurophysiology. Next, Dr. Sapp attended the Univ. of MO-St. Louis obtaining his Doctorate Degree in Optometry in 1994. He has spent every year since practicing Optometry in St. Joseph and the Kansas City area. He is excited to begin the next chapter of his career practicing in Maryville. Dr. Sapp has been married 33 years. His wife and their three daughters have careers in the medical field as well. When not taking care of patients, Dr. Sapp enjoys time outdoors, gardening, playing Pickle Ball and attending sporting events, especially Mizzou Basketball games and Football Bowl games. Dr. Sapp also loves playing the guitar and drums in the praise band at his church. Dr. Sapp offers comprehensive exams for eye glasses, specialty contact lenses, and medical diagnosis and management of eye disease.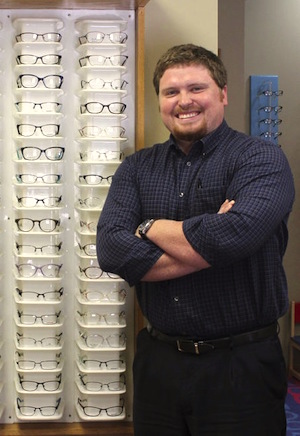 Dr. Drew Garwood
Dr. Drew Garwood is excited for the opportunity to continue the quality eye care established at Family Eye Clinic. A native of Northwest Missouri, Dr. Garwood graduated from Benton High School in Saint Joseph. He received his Bachelor's Degree in Chemistry at Truman State University while playing collegiate baseball. During his college baseball days, Dr. Garwood was a member of the St. Joseph Mustangs summer collegiate team during their first two years of existence. He then earned his Doctor of Optometry degree from the University of Missouri-St. Louis College of Optometry. Dr. Garwood practices the full scope of optometry including diabetic eye health exams, pre and post operative cataract care, and contact lens fittings. It is Dr. Garwood's goal to do his best to improve his patients' quality of life by helping each one with their visual health. He gladly accepts new patients of all ages. He is a current member of the American Optometric Association and Missouri Optometric Association.
Dr. Garwood is happily married to his wife Blair, a Northwest Missouri State University graduate and elementary school teacher. They are looking forward to starting a family in Northwest Missouri in the near future. Dr. Garwood and his wife enjoy attending athletic events, their favorite being the Kansas City Royals.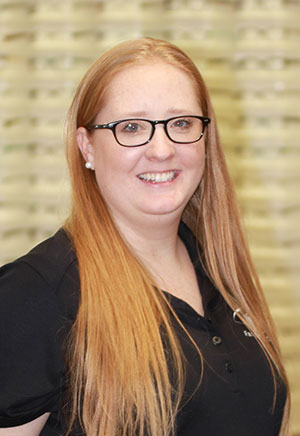 Korrie Sowards – Owner/ Administrator
Korrie is the owner of the Family Eye Clinic She has 13+ years of experience in the Field. She started out as an optician at the Family Eye Clinic. But left to learn about Glaucoma and Lasik and worked in those field for a few years. But she couldn't stay away from lenses and optics which is where she really wanted to be. So, she started working for Essilor a large lens manufacturer in the United States as a Trainer and Lab Rep. Where she had the privilege of learning the newest the latest innovations in lenses and being a part of opticals in a 6-state area. As her son got older and more involved she decided to stop traveling and come back to her roots at Family Eye Clinic where she purchased the practice in 2014. Korrie has been married to her husband Nick for 16 years they have one son who is a 9th grader at Maryville high school. Korrie enjoys being involved in the community and is a member of several organizations in town. As well as being a proud scout mom, dance mom, and Spectrum mom.
Our team of eye care professionals is experienced and friendly. We're here to help all patients understand their benefits, schedule appointments, and fulfill their eye doctor's orders. Our opticians can give you guidance in picking out your perfect pair of eyewear, and our friendly office staff is knowledgeable about billing and benefits coverage.
Sarah – Office Manager
Sarah has been an Optician at the Family Eye Clinic since February 2008. She has lived in Nodaway County her whole life. Sarah not only works in the dispensary helping patients find their perfect frame and lens combination, she also helps run the front desk. She is also known as the insurance guru working hard to figure out all insurance claims. Outside the office she is happily married with two beautiful daughters. She loves to spend time with her family, reading books, and coloring.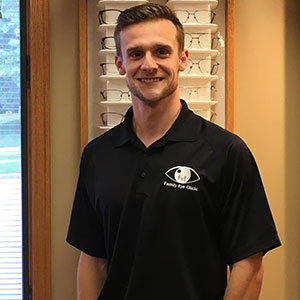 Dalton – Technician
Dalton McGaugh is from Excelsior Springs, Missouri.
Senior at Northwest Missouri State University.
Applied Health: Exercise Science with a Minor in Sports Psychology and Biology.
Hobbies:
Hunting
Fishing
Wisconsin
Football
Traveling / Hiking in National Parks